I wasn't unhappy at all that my youngest son, Geoff, chose the University of Colorado at Boulder as his college of choice. From our first visit, we both fell in love with Boulder for its beauty and its celebration of the outdoors. Whenever I came to visit Geoff, I took the opportunity to bike, run and even swim with a diverse community of triathletes, including pros, newbies and everybody in between.
So, it was pretty easy for me to decide to race Ironman Boulder 70.3 on June 13 this year instead of doing my ninth Ironman Hawaii 70.3 (Honu).  And it was fun to do it with friends from Hawaii who came to race and support!
As is typical for most races I travel to, it was rainy when we arrived and the forecast was for rain on race day. But, as is also typical for me, race day was beautiful.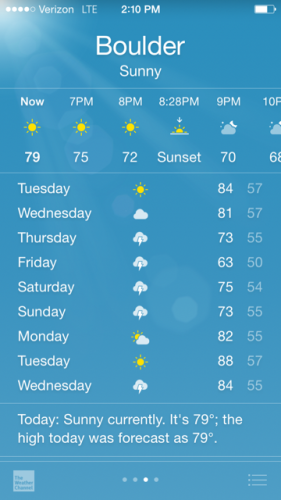 Race Morning
I'd delivered my bike the day before, so when we arrived at transition at around 5:30am, I just needed to set up my stuff. Unlike Honu or an Ironman, no race bags were provided and you set up your transition area like you would at a sprint or other shorter race. The problem was that bikes were racked close together and so transition space was super small. I was able to coax a neighboring athlete to take less than her hog-all-the-space room so I could squeeze in my T1 and T2 items. Transition closed at 6:30am and since the race started in waves, I had almost 1½ hours until my 7:53 start, with plenty of time for multiple trips to the porta-potty. These trips and talking with Rick, KC and Geoff made the time go by pretty fast. I also got the treat of watching the pros, including my friend Davide Giardini, in first place, exit the swim.
The Swim
I got on my wetsuit (water temperature was in the high 60's) and lined up on the dirty-sand beach for my start with the other age 50+ women. As usual, I am super nervous before the start and I expressed that in a new way this time. After the previous wave started, we waded into the water and swam to the start buoys for a water start. I noticed that most of the women didn't swim up to the start buoys, and with an extra measure of where-did-it-come-from confidence, I did. I knew that I would likely be swum over, but what the heck. The gun went off and I plowed forward. YUCK! The water was brown and murky with vegetation between my fingers and rubbing along my face with uncomfortable frequency. You see, the reservoir had been closed to swimming two days before because of dangerously high levels of bacteria, so I hadn't been able to check out the water. I hoped that the bacteria had magically cleared up each time I accidentally took on some water. The influence of Ironman in action perhaps? (I had no ill effects.)
The course was well marked and easy to navigate. And I did get swum over by people I couldn't even see because of the murkiness. The only time I was in a crowd was near the finish when I encountered swimmers merging from the sprint triathlon. I don't like swimming in crowds, especially with breast-stroking swimmers, but at least I didn't exit the water alone, and achieved at 45:29 swim PR.
The Bike
People frequently ask whether the course is hilly. There are hills, but more of the rolling variety than the climb, climb, climb sort. The road surface is good but there are lots of turns, which interrupted my pace.  I felt strong and fast, even without my Zipp Wheels. (Right before our trip, I found out that my 404 front wheel had been recalled and was unsafe to ride. I tried a newer, all-carbon demo wheel on the front, but I couldn't adapt to it immediately and so decided that it would be best to race on my regular training wheels.)
As I had been coached by KC Carlberg, I rode with speed in mind as long as I could keep my cadence high. I continually thought about what Alika Chee had told me to think about: "Is my cadence high enough?" "Can I push a higher gear?" I heard Davide Giardini in my head saying that you can go faster on the bike at high altitude because there is less resistance from the thinner air. All of that good advice gifted me with passing 410 fellow athletes on the course, a 19.5 mph average pace, and a bike PR of 2:51:57.
The Run
The temperature had been rising while I was on the bike, but I didn't notice how hot it was until I reached T2. I thought I had taken in enough nutrition and hydration and that along with my high-cadence strategy would enable me to achieve my run goal. I am dogged by severe cramps in many races and I continue to try new things to solve this major issue. I employed my usual nutrition/hydration strategy, sized to a 70.3 rather than a 140.6 race. But, alas, right after heading out on the run, my left hamstring totally seized up. With temps in the mid 80's, I tried to recover. I took two gels, drank all of my zip fizz and took Gatorade at the first aid station. For a while, I thought I was okay. But, soon out of nowhere, another seizing cramp stopped me in my tracks (along with the poor people who were right behind me). As I ran, cramped, walked, ran, cramped, walked, ran, etc, etc. on the shadeless dirt path, I wracked my brain to think of other things to try: I dumped ice into the legs of my shorts to cool down my muscles. Helped a little bit. I ate straight salt as I bit into about 6 salt tablets at once (not recommended) and almost choked until I was handed a full bottle of water from one of the support trucks (which I drank down all at once). Helped a little bit. I accepted everyone's form of salt or other remedy. Maybe helped a bit. And I said "oh!" when they told me that you need more hydration at elevation.  Overall, I was hurting and disappointed–I was expecting to run a 2:15, but came in at 2:35:10.
Ironman 70.3 World Championship, Austria
However, my total time of 6:20:38 placed me 3rd among 17 women in my age group and only 10 minutes out of 1st place. (Thank you PR swim, PR bike and quick transitions!) So, I made the podium. There was a decent chance the slot to the 70.3 World Championship could roll to me. However, it is on August 30 in Austria and I will be starting an ascent of Kilimanjaro on September 2. It rolled to the 4th place person.
The Venue
Everything, from the expo to the race, is held at the Boulder Reservoir, about 10 minutes by car outside of Boulder. It is an isolated area with no services nearby and limited shade. For that reason, wherever you stay in the Boulder area is pretty much as convenient as anywhere else. If you have spectators with you, and have $100, I highly recommend buying the VIP package. It comes with parking right next to transition, well-located tents with all-day food, beverages and seating; and great swag.  I was so happy that my wonderful husband Rick, super coach KC and handsome son Geoff were able to enjoy this comfort on race day.
The Elevation
Boulder is about 5400 feet above sea level.  You will perhaps notice a shortness of breath and less energy.  I was told that racing within 3 days of arrival or after a month of acclimatization was optimal, however I don't know that for a fact.  The air is dryer and the need for a higher level of hydration makes sense.  I didn't feel any sweat on my body during the bike leg, perhaps tricking me about how much water my body was really sweating out as it quickly evaporated.  And did the thinner air contribute to a bike PR?  Who knows, but it sure worked in my head!
All World Athelete (AWA) Benefits
I qualified as a AWA athlete in 2014 at the silver level, so I received a couple of nice benefits.  One was priority athlete registration that allowed me to skip the long line and register in 10 minutes instead of 45 minutes or so.  I also got to rack my bike 30 minutes before regular bike check in, and in a special AWA section.  I received a special AWA swim cap, but decided to wear the regular one, thinking that athletes would expect me to be a quicker swimmer than I am because of the cap.  So, sorta nice, but nothing spectacular.
Race Organization
It was apparent to me that this event had taken place for several years. Routes were well marked, aid stations were well stocked and race officials, volunteers and the police were on top of navigating athletes safely through the course. The bike course was well marked with arrows taped to the pavement even several days beforehand so you could easily drive and ride the course despite the multiple turns.  And at this event they mark your age on your calf, which I kinda like for a few reasons. One issue this year was the inclusion of a sprint triathlon that ran concurrent with the 70.3. That created some major congestion in the swim and the bike for some athletes, including pros racing for a purse.
And, the other issue was the porta-potties. Maybe all the time between the close of transition to wave starts made them especially memorable. Have you ever seen one with waste almost to the seat rim?