At the start of every Ironman is a swim.  For someone whose swim is their weakest event, it can be viewed as something to get through–to survive before the real racing begins.  I have experienced six Ironman mass starts so far and each of them has come with some degree of discomfort, confusion, dismay and even panic.  My worst experience was at 2011 Ironman France, in Nice on the famous French Riviera.  There was no issue with water temperature which was in the high 60's or with water conditions which were only slightly bumpy with minimal current.
At this race, over 2500 athletes are crammed, perhaps 10-deep, onto a narrow and uncomfortable pebble beach. If you aren't already nervous, you are soon to be as you stand like erect sardines all facing the sea.  The fastest athletes are seeded in the middle with slower swimmers seeded faster to slower on either side.  That means the slowest swimmers like me are on the far right and left ends of the lengthy start area.  In the distance, are two orange buoys.  Maps show that you swim out and around the buoy on the left, return to shore and run around a post on the beach, and then reenter the water to swim around the slightly closer buoy on the right. Okay.  Got it.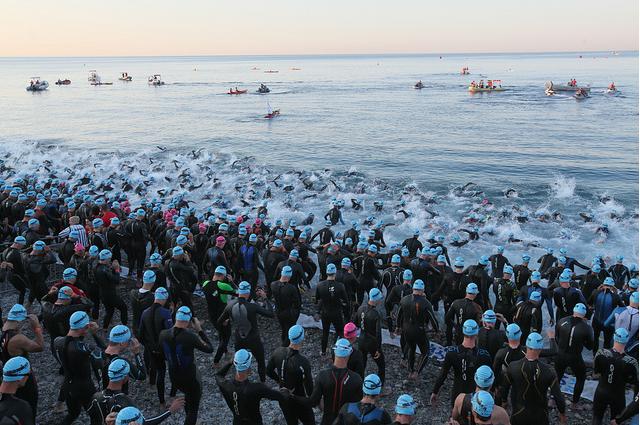 I noticed that more than 80% of participants were male.  In most situations I like a percentage like that, but in the case of a mass swim start, where it's every man for himself, it's easy for smaller people in pink caps to get pushed aside both on land and in the sea.
As always, the cannon went off and my heart jumped.  My immediate group of swimmers moved as a mass towards the water and then started swimming.  I looked for the buoy to sight, but couldn't see it.  Because it was straight out into the Mediterranean, there was no pre-planned landmark to sight on.  So, I followed splashing.  The only problem with that was that there were swimmers going in all directions.  I guess I wasn't the only person who couldn't see the buoy.  Or, who couldn't figure out at dawn if it was the left or the right buoy we were swimming towards.  I saw two groups of major splashing moving away in the distance.  I picked one and started to follow it and then switched over to the other one once I saw what I thought was the correct buoy.  By that time, I was swimming with the stragglers, including the inevitable breast-strokers whose frog kicks could knock me out cold.
After finding the first turn buoy and swimming around it and back towards shore, sighting was much easier and my confidence improved.  Then, it was a matter of getting up on those rocks, around the post on land and then back into the water. There were volunteers on the beach providing a helping hand as footing was difficult.  By now, the sun was brighter and it was easier to see the  next buoy and get out and around it.  I knew I was in the back of the pack, but I was familiar with that and settled in to get the swim over with so I could get out on the bike.  And that's another story.
What I learned:  It will be mayhem at the start of every Ironman swim, but find a way to stay calm.  Do not merely follow a pack of swimmers–do you own sighting to make sure you're not being led astray.  A wetsuit won't automatically give you a faster swim time (at least in my case).  My swim of 1:42 was 8 minutes slower than my non-wetsuit swim of 1:34 at Ironman Cozumel.  And importantly, every race is a unique experience.  Take it in, enjoy it and learn from it.