I am often struck by how upset people get about other people, everyday things that happen in life, and notably health and political views.  I'm seeing it all of the time–swearing, nasty posts in social media, being pissed about a cyclist passing without a shout out, and even going off in a huff because of a misunderstood remark.  Maybe they're having a bad day, but if that's the case, it sure seems that there are more people are having more bad days. Using energy efficiently is important in endurance sports.  Why waste energy boiling about some little thing?  A positive attitude will deliver better results and allow you to enjoy and absorb all of the crazy things that happen to you in life.
Some people note that I am an optimistic and positive person, and that it's only because I'm lucky to be financially secure, loved and in love.  But, I have not always been in such a position.  Working as a waitress at a pancake house certainly didn't give me a lot of money to spare.  And I didn't earn much more when I took my first advertising job.  I learned early in my advertising career how to buy one happy hour drink at a bar that had ample pupus that could serve as dinner.  Love?  Yes, I am very lucky now but there have been many times in my life when I was alone, far from family and too new to my situation to have any friends.
I think that my positive outlook is what gets me through tough times by giving me the willingness to take chances and feel confident that everything will work out in the end.  Having an optimistic outlook doesn't mean being stupid or naive–it means putting myself in control of any situation and being open to learning from it.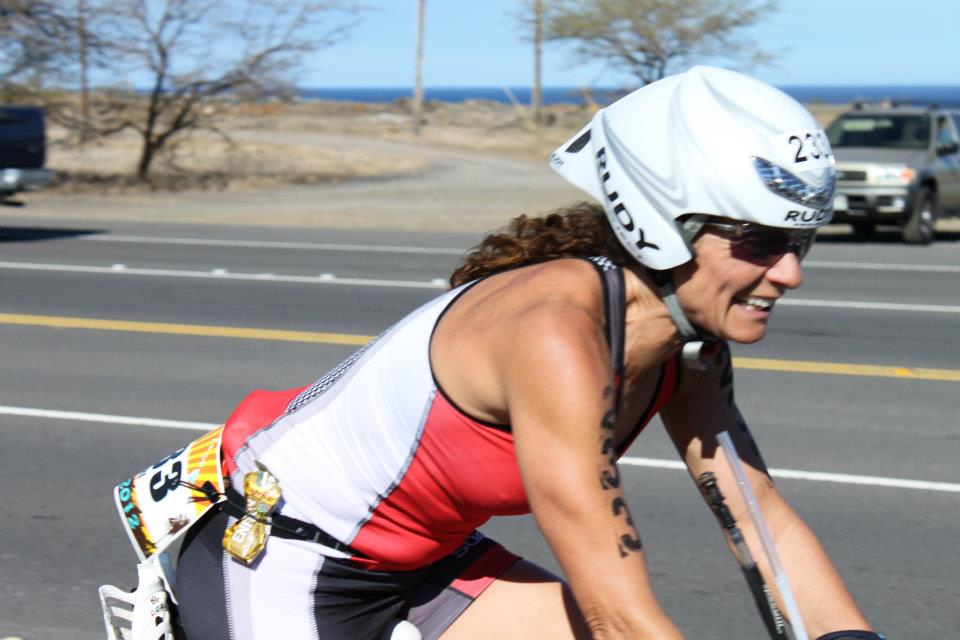 I approach my life this way, including training and racing.  A rainy training day means better preparation for a potentially rainy race day.  A flat tire gives me more tire-change practice, and in a race, it means that I better practice changing a flat more in training.  Losing my liquid nutrition when my teeth pull at the cap on a water bottle and the top comes off spilling the sticky mess all over me and my bike means not to put all of my calories in one bottle.  When I am aero, I need to hold on so that when I hit a bump, I don't fall forward off my bike and slide down the road on my helmet and my shoulder again.  (There is no doubt that a helmet has saved me serious injury.) Run in humidity?  Heck yes.  Who expects a cool and dry race day?
So, the next time you want to scream, how about smiling instead?  And when racing, try keeping a smile on your face.  It worked for Chrissie, it works for me and besides, you'll end up with better race photos.